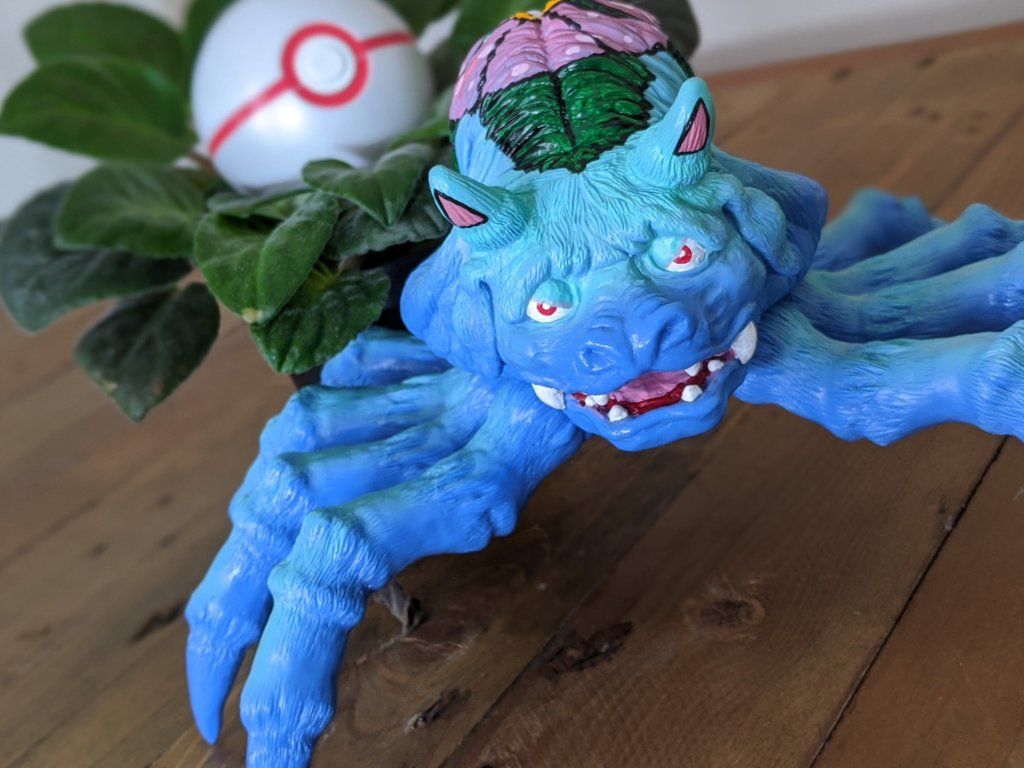 Hey, we are all looking for something beautiful in this world to love, right? Even if it is a little on the weird side! If your love is weird Venusaur Ushi-Oni figures, you're in damn luck as the guys at Cereal Box Toys have recently dropped their Strange Flower Ushi-Oni release at Tenacious Toys!
Cereal Box wanted to celebrate the theme of 'awesome' toys with an awesome homage to 25 years of Pokemon. Cereal Box Toys Go! is a collaborative effort between two brothers who grew up collecting, trading & raising Pokemon together. They have painted up three Ushi-Oni to represent their favourite flower-toad monster, Venusaur, from Pokemon! Strange Flower features peppermint sprays on blue vinyl finished with acrylic details, each Ushi-Oni is a combination of both of their efforts. 
With only THREE of these available, you can grab yours using the button below. These are approximately 10 inches wide and 6 inches tall, and priced at $120+shipping.
---
Cereal Box Toys Social Media
Instagram: https://www.instagram.com/cerealboxtoys
Twitter: https://twitter.com/CerealToys
---
Tenacious Toys Social Media
Facebook: https://www.facebook.com/TenaciousToysNYC/
Instagram: https://www.instagram.com/tenacioustoys/
Twitter: https://twitter.com/tenacioustoys
---
If you want to support The Toy Chronicle, we have a number of options available to you. We have started to stock a wide range of releases that we think you will enjoy. Ranging from production pieces from Superplastic, Unbox Industries & POP MART, to original pieces from our favourite artists like Sank Toys, Quiccs & Czee13. Purchasing one of our pins also really help. A quick, cheap way to also support the TTC is by making a small donation. These can all be completed below through our online shop. We appreciate all the support! Thanks!