The one and only Don "Datadub" Kratzer aka the Toy Whisper of Fig-lab set it off last year as he unleashed a special selection of Japanese Sofubi by some of our favourite creators plus customs and surprises by international superstars featuring the RE:BOOT series + selected sofubi works: Fig-lab • Science Patrol • Paul Kaiju • Apos Toy • Bigshot Toys • Chima Group • Kikkake Toy • Mesi Style • Samurai Doll • Siccaluna • Teppei Nakao (Sushi L.A.) at JP TOYS Gallery last year. NOW you have the chance to own Fig-lab's RE:BOOT Series 1 – Glow-in-the-Derp edition!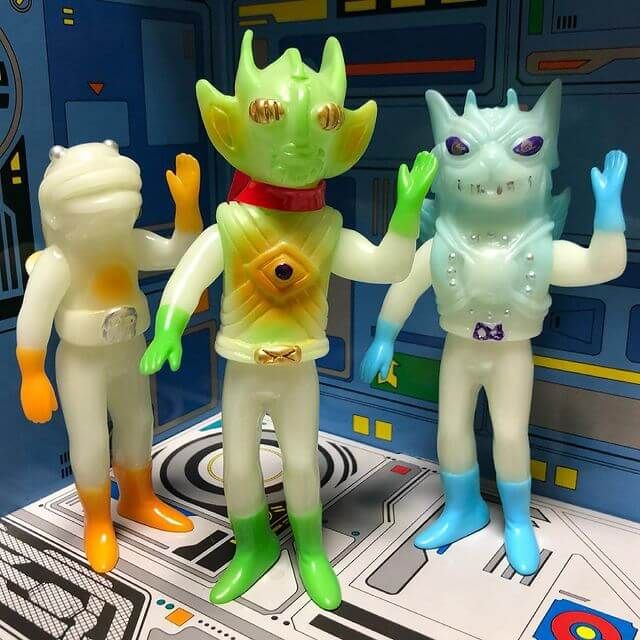 RE:BOOT Series 1 – Glow-in-the-Derp edition
Only a few of these available now via Instagram.com/global.figure.showcase/ simply direct message to be in a chance to own this GLOW IN THE DARK Derp edition RE:BOOT Series 1 set.
$150 for the set + shipping
MORE at https://fig-lab.com/shop/
http://fig-lab.com/ for further info. Find Don via Instagram.
You can get your daily Designer Toy fix from our TTC Mobile App. It's free too! FREE! Download on the iPhone or Android smartphones. Search for "The Toy Chronicle" and all your Designer Toy wishes will come true! Pretty much.
Did we fail to mention IT's FREE.