While the spotlight and hype are with the Godzilla vs. Kong movie our eyes are on the jack of all trades or we should say James of all trades, HA. Malaysian James Lee aka Jimsee who is now settled in Shanghai making the ground shake with his "Crazilla", the Ex-LEGO creative likes to play with different ideas, toy design, installation art, fashion, design, lighting design, music, cartoon, graffiti, James has already had his art exhibitions and art crossover project with brands like Adidas, Converse, Hennessy, Vans, Nike, Vice magazine, Starbucks and Pizza Hut just to flex a little, HA. After years of expressing his art on canvases, James has turned to vinyl art collectable as a different medium! Meet "Crazilla", it's a crazy side of Godzilla, he likes hip hop and does all kind of crazy fun things, 30cm high and wearing some serious bling already launched in China, now Crazilla is ready to take over the world!
"He thinks that the creation of the fun is not only on a piece of canvas, the creation itself is a kind of unbounded, should not be restricted by the media or any matter or thing. Things in daily life becomes his "canvas", such as Starbucks coffee cups, wasted plastic bags, vomit bags on the plane, wasted dish plate and stamps etc, all kinds of small poor to him is a good material, given new life to them, is a kind of sustainability and reduce unnecessary waste in the environment. He named it "Recyclart". He set up a studio "Crazy lab", a place to experiment crazy fun ideas, a better combination of art and toy, also experiment the eco friendly "green" fun ideas."
Coming in two variants!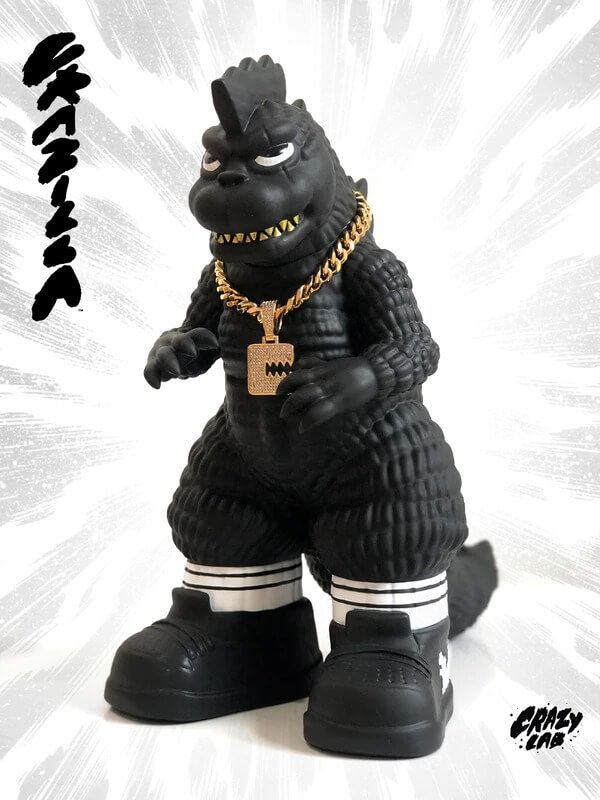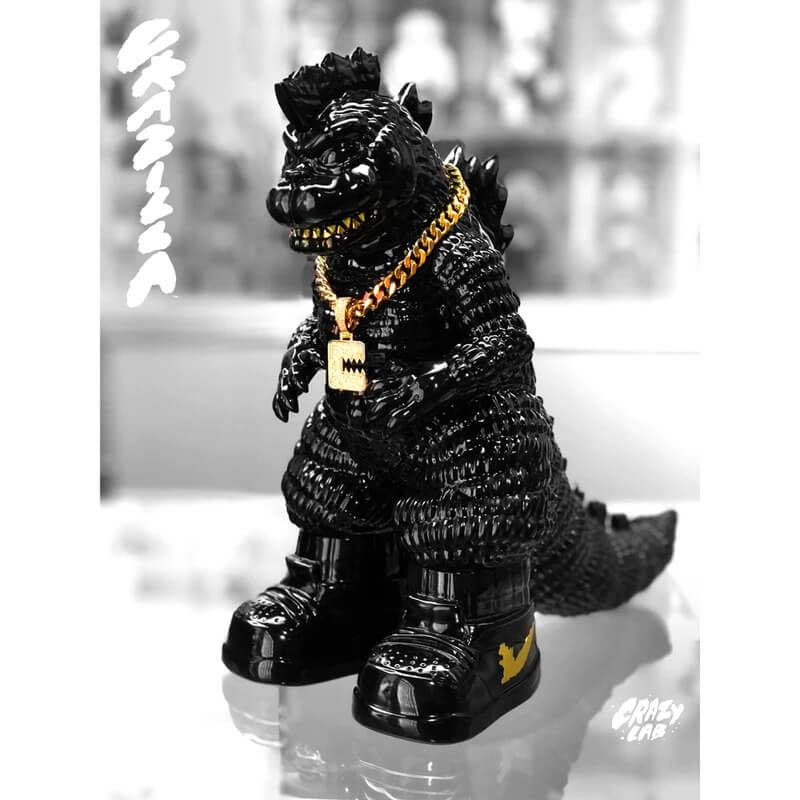 He is the fun / cool / trendy / playful kaiju ever, the world is his playground. I created it into a vinyl toy form, now just releashed as GLOSSY and MATTE version. 
Size: 30cm high
Includes a special made accessory for Crazilla & collector.
Edition 100 matte version, 100 glossy version
WHERE: https://s.taobao.com
https://www.myplasticheart.com/ Use Code: IHEARTTTC for $10 off over $100 spent. (please note the code changes every month so feel free to keep checking for the latest code)
PRICE: Matte version: usd 215 , Glossy version: usd 230 
Find James via Instagram.
If you want to get your Designer Toy news first, you should look to download our new TTC Mobile App. Designer Toy news direct to your smartphone. No dealing with social media algorithms.
IT's FREE.